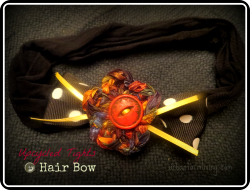 With everything going on lately, I had a calendar mishap and thought I had a full week to crochet a headband as a gift for my adorable baby niece – not the case.  By Saturday night, I still hadn't gotten it started and it needed to be done for Sunday afternoon's party.  Not having time to get to the store for elastic, I looked around for items that I could make a stretchy bow headband instead.  I saw a picture of a headband made of an old pair of tights with the ends knotted together into a bow.  This I could do.  I threw together some other elements and cheated by hot gluing the whole thing together and glued the bow onto the tights by wrapping ribbon around the bow and the tights.  Yes, I know that it should have been hand sewn, but it got glued instead.  I've never been shopping for a little girl, so this was entirely uncharted territory for me.  Still, I was pleased with the result as I'm not all that crafty as far as things like this go.  Once finished I needed to see if it was going to be big enough.  Pidge got to be the lucky test model.  He loved wearing it and started posing, so of course I had to snap a few photos.
My niece loved it and of course it looked even cuter on her!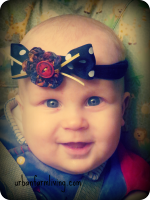 To make, simply cut the leg off a pair of tights.  I cut the toes off and cut the length in half so that it still formed a tube.  I just tied the ends together into a know and wrapped the ribbon around to attach the bow.  For a quick headband the bow isn't even necessary, just tie the tube into a knot at the end and leave the ends loose.