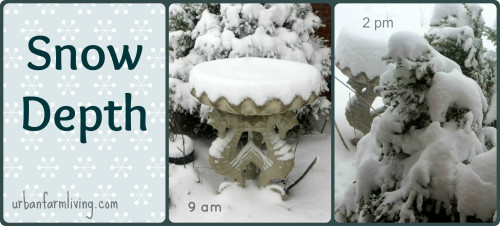 We here in the Midwest are being hit by a lovely (sarcasm) snowstorm with the coldest temperatures I have ever experienced here.  It is still snowing and I would provide measurements if I could but the boys decided Mom's tape measure was fun and broke it.  After spending a few winters in New England, the forecasted 10″ – 14″ inches is a pain, but doable.  It is the -11 degrees Fahrenheit that I am concerned about.  We here in the lower Midwest do not see these temperatures typically and I am thinking that several of our plants will not survive this winter.  I have Tuscan Blue Rosemary planted in a southern facing sheltered area along the front of the house.  It is approximately 3′ by 3′ and I would rather not lose it.  We lost one from damage done by chipmunks last year and this year it is extreme cold.  Last night I stuffed as much straw as I could around the base and covered it with black plastic.  I am hoping that with sun tomorrow and the protective layer of snow, combined with our precautions, it may just make it through.  Cuttings were taken last night just in case.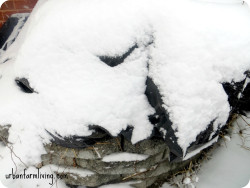 We also went ahead and tried to cover our outdoor faucets.  We use water outside year round so do not normally cover the faucets during the winter (we have not had a bitterly cold winter since purchasing this home).  This morning, we rigged a cover by using Styrofoam packing peanuts and a plastic shopping bag.  It is not my most attractive outdoor feature as the only duct tape I have on hand is sunshine yellow, rainbow or red.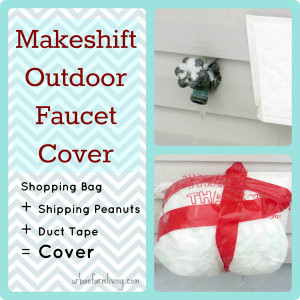 We shall see over the next few days if our precautions worked and we will update the website with our success or failure.  Stay warm and be careful over the next few days!!