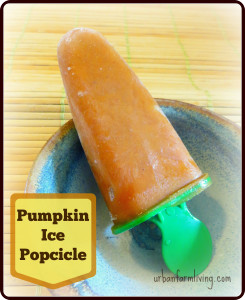 Like many other moms with young children, I have to be creative when it comes to vegetables.  Not only does our food have to have a lot of flavor, but it should preferably be the consistency of baby food.  We seem to be much more successful when they are either pureed as a condiment, frozen or mixed into a drink.  Recently, I tried combining applesauce and pumpkin to make a frozen treat that tastes like pumpkin pie.  We have now made several batches.  The boys all love it!  I don't get upset when they ask for seconds or thirds and they get to have a naturally sweet treat.  I would call this success a win for all parties involved!
Easier Than Pumpkin Pie
These popsicles are dead easy!  All you need is an ice cube tray with sticks or straws, or a popsicle mold set.  Our popsicle molds hold 2 oz or 1/4 cup each.  This recipe fills a set of 6 molds or 1 1/2 cups of mix.
Pumpkin Ice Popsicles
1 cup applesauce
1/2 cup pumpkin
1 tsp cinnamon
1/2 tsp ginger
1/2 – 1 tsp vanilla
1 Tbsp maple syrup or honey (optional)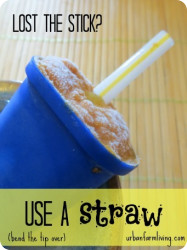 Simply combine the ingredients and freeze approximately 3 hours.  Enjoy!
Optional:  To add extra vegetables, increase the pumpkin to 3/4 cup, while decreasing the applesauce to 3/4 cup.  This is the version I usually make for the boys.  They have yet to tell me that there is too much pumpkin flavor.
Tip:  To release the mold, run it under warm water for a few seconds before pulling on the stick.
Tip:  Drinking straws can be used in place of or to replace lost sticks.  We have not had any trouble with the mix melting and dripping through the straw before the treat has been eaten.
Popsicle Molds
We currently use plastic molds from Ikea or ice cube trays.  However, we are trying to make the move to silicone molds for baking and freezing.  These are the molds on our list of things to purchase.  They can be found at Target.com (affiliate link) or Amazon.com.
Servings:
1/4 cup servings
Combine the ingredients in a small bowl.

Pour into molds or ice cube trays.

Freeze approximately 3 hours before enjoying.

Options: Increase pumpkin puree to 3/4 cup and decrease applesauce to 3/4 cup. Variations: Add any winter squash or berry puree. If using berries, omit cinnamon and ginger.