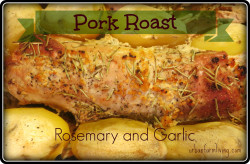 Happy weekend!  Our family cannot get enough pork!  We found our favorite pork recipe in a modern translation of a 16th century French cookbook and served it for our wedding reception.  But that is a recipe for another day.  This recipe however is an variation using beer and rosemary.  We made the photographed meal earlier this week and ate it two nights in a row.  Pork is one of the few leftovers my family will eat and not complain about.  The smell of the garlic and rosemary roasting on a cold, snowy, miserable day is a wonderful treat at the end of a long day.
Rosemary Garlic Pork Loin Roast
This pork loin recipe makes enough for us for two meals and is so easy!
One optional step that I take when making this for company is to brown the meat on both sides.  It is a simple  step that does not take up much time but really adds to the flavor.  However, it is something I do not typically do when it is just us.
Preheat oven to 400 degrees Fahrenheit.

Optional step: Brown all sides of the pork loin in a skillet using 2 Tbsp. grapeseed oil, unflavored cocount oil or butter. Make sure to pour all of the juices from the skillet into the roasting dish.

Place pork loin into a casserole dish or roasting pan.

Rub with salt and minced garlic. Sprinkle with rosemary and generously sprinkle with pepper to taste. Pour in beer or wine.

Place potatoes around the pork.

Place in oven and roast approximately 1 1/2 hours until a meat thermometer reads 145 degrees F. Remove and let rest 3 minutes before serving.
What herbs do you use for your pork loin?  Enjoy!