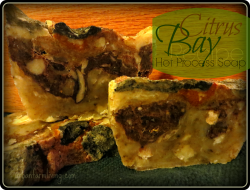 I have always loved Bay based fragrances and last winter a friend asked me to create a bay rum combination that included lime.  I may have enjoyed it a little too much.  This holiday season, when I needed teacher gifts, I pulled out this essential oil combination to make a neutral, naturally scented shea butter soap.  To create the layering effect I used olive leaf powder, beet root powder, cocoa powder, turmeric and activated charcoal as colorants.  Each color was added to a spoonful of soap and mixed by hand before being pressed into the base layer in the mold.  A few words of caution:  make sure that the soap pH is not too high.  I usually allow my soap to cook an extra 30 minutes to help ensure neither myself or my boys are not going to get lye burns by handling the fresh soap.  (The boys are not allowed to handle new soap, this a precaution I take when making soap and having newly cut bars curing.)  Also, hot process soap is very hot when is first finished cooking.  Allow to cool enough to handle before molding with your hands.
Servings:
ounces (oil weight)
Measure water into a glass container. Add the lye to the water (important - do not add water to the lye). Allow to cool.

Gently heat the oil in a crock pot until all oils are liquid. Take care not to overheat.

Add the water/lye mixture to the oil.

Using a stick blender, stir until the mixture reaches trace.

Cover and let cook on low heat. Check frequently. Stir down soap if it starts to rise. Stir every 20 minutes or more frequently as needed. Allow to cook approximately 2 - 2 1/2 hours. At the 2 hour cook mark, check the pH using indicator strips. If the pH is too high allow to cook 30 minutes longer as long as it is not drying out too much. Otherwise go ahead and mold the soap but be very cautious when handling and check pH before using.

Turn the crock pot off. Add essential oils and any colorants.

Spoon into a prepared mold. If using wooden molds or cardboard boxes, line with freezer paper. If using muffin molds, silicone or plastic molds, or glass baking dishes, spray/coat with cooking spray/oil.

Allow soap to cool 24 hours before turning out and cutting. Allow to air cure at least 3-4 days before wrapping and storing.
Note: when using palm oil, please ensure that the palm oil you are purchasing comes from a sustainable source.
Use caution when making soap and follow appropriate safety measures when working with caustic substances like lye.  Always make sure to have a large bottle of vinegar on hand when working with lye to neutralize any spills.