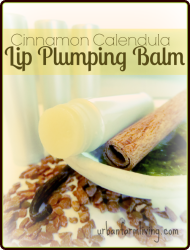 Whenever my sister and I got together, in what seems like another life, we would go do the girly things that we would never do normally.  Things like shopping for make-up or getting our nails done.  Now neither one of us have the time to do such things with the babies running around.  On the rare occasions that we can get together, who wants to spend time apart, when we actually have time to do a project together.  This week, my sister came to town for a visit.  We decided it would be fun to make lip balm as both of us are struggling with chapped lips in the dry winter climate. 
Years ago, when the lip plumpers first started appearing in stores such as Sephora, I had my makeup done for our wedding.  I have never forgotten the tip that the makeup artist gave to me.  The best lip plumpers are the ones that moisturize lips to create plump, healthy lips, naturally colored.  When the skin of our lips is healthy, lips will appear fuller, darker and results last all day, not just a few hours, like most irritant based lip plumpers.  This in mind, I altered my favorite and best selling lip gloss recipe, creating a balm to help heal and condition our lips.  The cinnamon not only tastes delicious but also acts like a mild irritant, making lips swell and causing the natural lip color to deepen.  The result – naturally fuller, darker, and most importantly, healthy lips.
My sister described the flavor of finished product as "hot cocoa and cookies" in a tube.  I have been testing it over the past couple of days and can report that it has healed my chapped lips.  They are no longer cracked and the balm is long lasting, even through the night!
Cinnamon Lip Plumping Balm with Calendula Ingredients:
Avocado Oil: Rich in vitamins ( A, B1, B2, D, and E), amino acids, and fatty acids, avocado oil is wonderful for sensitive and dry skin.
Beeswax:  Used to solidify the oils in lip balms, beeswax also serves as a protective barrier for sensitive skin.  Carnuba or candelilla wax can be substituted for beeswax in this recipe.
Calendula:  Traditionally, calendula extracts have been used in skin care products to aid in healing and to promote healthy skin.
Castor Oil:  A very thick oil, castor oil is often used to provide shine and glide in lip balms or glosses.  It is soothing and also provides a protective barrier.
Cocoa Butter:  Cocoa Butter is a wonderful skin conditioner, and is thought to improve skin elasticity and to create a barrier, protecting the skin from harsh elements.
Coconut Oil:  One of the most versatile of oils, coconut oil is our go to oil for moisturizing and protecting our skin.
Honey:  Honey is not only sweet, but it also acts as a humectant, attracting moisture to the lips while helping to prevent moisture loss.  A natural antibacterial agent, it can aid healing chapped, irritated skin.
Vitamin E Oil:  Tocopherols (Vitamin E) are anti-oxidants that help prevent the oils in this recipe from going rancid, extending the shelf-life of your balm.
For our family, I added 6 drops of cinnamon essential oil.  The boys happily tested the finished product and I am satisfied that it did not irritate their skin.  For myself, I added an extra 5 drops without any negative effect, but it was too strong for the boy that got into it.
This balm tastes like a combination warm cinnamon cookies and hot cocoa, all while soothing, healing and plumping chapped or cracked lips with a blend of cocoa butter and calendula infused coconut oil. Makes 5 - 7 (.25 oz) lip balm pots.
This balm tastes like a combination warm cinnamon cookies and hot cocoa, all while soothing, healing and plumping chapped or cracked lips with a blend of cocoa butter and calendula infused coconut oil. Makes 5 - 7 (.25 oz) lip balm pots.
Infuse the Oil: Place 1/2 cup of coconut oil in a heat safe glass jar or bowl. Add the calendula, cinnamon chips/sticks and vanilla (split down the middle). Fill either a sauce pan or crock pot with enough water to come halfway up the glass container. Turn on low for 3 hours (or on medium/high for an hour - not preferred). Remove from heat. Oil will be a golden color. Strain oil through a coffee filter or strainer. Reserve 2 teaspoons and allow the rest to cool. Store in an airtight container.

Put beeswax and cocoa butter into a heat safe glass container or small pan. Put container into a double boiler and allow to solids to melt.

Add remaining oils, including the infused coconut oil. Stir. Remove from heat.

Add honey, cinnamon essential oil and vitamin E. 5 drops gives a mild flavor, while increasing to 10 drops gives a warming sensation and reddening. 15 drops will cause irritation and reddening of the lips, similar to commercial lip plumping glosses.

Stir well to incorporate the honey. Pour into lip balm containers or tubes. Allow to cool before capping. To prevent the balm from drying out, close containers after each use.
The cinnamon can also be left out entirely or peppermint oil can be used as a substitute as a lip plumping flavor.  The possibilities of this balm are nearly endless!
Caution:  Cinnamon oil should not be used during pregnancy.
What is your favorite lip balm flavor?