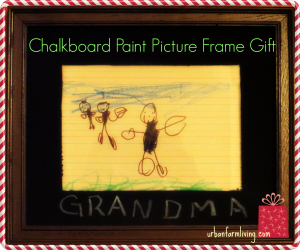 Need a gift idea?
This chalkboard paint picture frame project is quick, easy and the grandmas loved it!
Find a frame.  I found a few beat up frames at a yard sale and put them away for the right occasion.  I've also picked up frames on clearance racks and Goodwill.  Frames for 8″ x 10″ photos or document frames seem to work the best for various projects.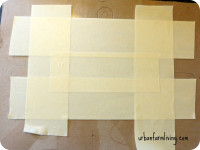 Remove the glass.  Tape off a square in the center on the front side of the glass using masking tape or painter's tape, whatever size you want.  I used the hanging cutouts in the cardboard as a guide.  Trim the edges of the tape to make sure the edges are clean.
Lay the glass on paper or a drop cloth in a well ventilated area.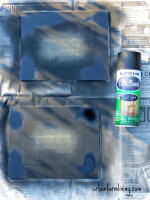 Paint using chalkboard spray paint.  I used two quick coats.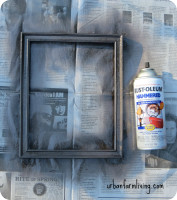 If painting the frame, prep the frame by using fine sandpaper.  Rough up the varnish to help the paint adhere.  Wipe clean with a clean tack cloth.  Lay the frame on a paper or drop cloth.  Paint using quick even passes.
Let dry thoroughly and remove the tape.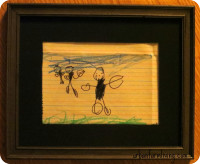 Center a drawing or even a piece of fabric on the back side of the glass.  Replace glass in frame and put the frame backing back in place.
Use chalk to add a message or decorate the frame on the paint.
We have used chalkboard paint on several projects.  How do you use it?