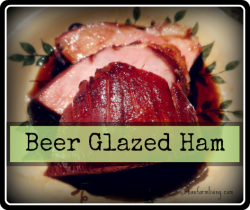 Following a trip to our local library, my husband brought home Isaac Hayes' cookbook, Cooking with Heart and Soul.  His recipe for Superbowl Sunday Beer Glazed Ham looked like something we would heartily enjoy.  We first tried it using a Christmas ale and studding the ham with cloves.  The beer was a little overpowering and while delicious, we decided that we were not big fans of the cloves.  The next time we made it, I used a large bone-in ham.  The bone-in ham was half the price and we have the ham bone as an added bonus for making soup or peas/beans.  Instead of the cloves, we used paprika and a light lager beer.  This time the result was perfect for our family's preferences.  A departure from the traditional beer-glazed ham recipes I found, it is nonetheless delicious!  Taz is enjoying his leftover ham sandwich as I am writing this post.
I think next time that we make it (New Year's Eve), I am going to substitute 1/2 cup maple syrup for a 1/2 cup of the brown sugar.  I tested the combination while I was cooking and quite liked the flavor combination.
If the boys have a say in the matter, we are going to be making this particular ham quite often!
Preheat oven to 350 degrees Fahrenheit.

Place ham in a roasting pan or oven safe dish. Pour beer over the ham, reserving 2 Tbsp. for the glaze. Bake about 1 hour or until cooked through. Baste occasionally so the ham doesn't dry out.

Combine remaining ingredients in a measuring cup or bowl.

Remove ham from the oven, score the fat in diagonal cuts. Pour glaze over the ham, rub into the cuts.

Return ham to oven for an additional 40 minutes, basting occasionally.

Remove from oven, slice and place on a serving platter.
Do you prefer the traditional ham recipes or something a little different?  How do you prepare your hams?