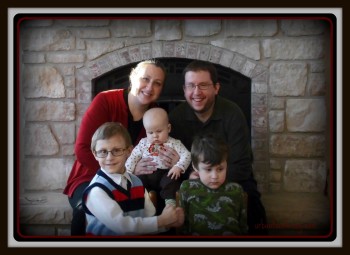 Some of you may wonder how a  guy who grew up in a major metropolitan area and a gal who spent the summer on her grandparents farm, came to have their own "farm" in the middle of an older suburban community on 1/5 of an acre (including the house).  I have always enjoyed getting my hands dirty in the garden and have grown a few vegetables, herbs and flowers in both traditional and container gardens.  With the steep rise in food costs, my husband and I decided to take the next step in growing our garden.  Now, entering our fourth growing season, we are finally able to really develop the garden into a food production enterprise with vegetables, fruits, nuts, edible flowers, "wild" edibles, herbs, and flowers.
Who are we?  My husband, the former city slicker, afraid to get his hands dirty, is an IT Professional, with an interest in history and I am currently a homemaker who was in non-profit management and event planning with a specialization in Medieval European culture.  We now have three young children, the elder of the two who have a passion for getting dirty, into mischief, "harvesting" vegetables and watering our garden (the youngest isn't mobile yet).  With the economy being what it is, we have become self-made experts in saving money on everyday personal, household and grocery items.  Many of our friends and family have asked us for advice in doing what we do.  We decided to put together this website as a practical guide for others – developed from our own experiences in trying to live a healthier green lifestyle, raise a family on a tight budget and still maintain balance and our sanity.
Matilda Jacoby
Disclaimers: We are by no means lawyers or medical professionals – we cannot offer legal advise or assist in any sort of diagnosis.  We are simply relating what we have done as a family and what has worked for us.  If you have legal questions, please contact a lawyer.  If you are in the St. Louis area, we would be happy to refer you to the lawyer we used.  If you are in need of medical attention, please contact your healthcare provider.  If you are pregnant or nursing, check with your healthcare provider before adjusting your routine or using the recipes found on this site.
Disclaimer:  Affiliate links, such as those sponsored by VigLinks.com, may be found throughout the site.  We earn a small commission on sales made by visitors to this site.   Purchases are by no means necessary, but they help us cover the costs of maintaining this website and we thank you.